You are expecting a baby here in Lithuania?
I can help you to prepare for the birth and I can be present during the labor in the hospital (in Vilnius or Kaunas). You can choose just the preparation part or both.
I suggest meeting the doula in the 6th – 7th month of pregnancy in order to have enough time to establish a relationship and discuss the birth vision. We usually meet at least 2 times during pregnancy and discuss topics that are important to you. We prepare a birth plan together and talk about your expectations, wishes, and doubts about childbirth. Usually, it is important to get acquainted with the birth system in Lithuania. We devote time to practical preparation: we try out various childbirth positions, voice and breathing techniques, and natural pain relief methods. If you're interested, we can do some pre-birth meditations, and focus on meeting your shadow parts, fears, etc. If your partner will be present at the birth, we must all meet together at least once.
If you wish, I can give individual somatic therapy sessions during pregnancy, which can facilitate your physical and emotional well-being. Please read more (In Lithuanian).
If you wish, at the end of the pregnancy, I can help you organize a kind of baby shower – a traditional ritual of preparation for childbirth. Please read more (In Lithuanian).
As the due date approaches, I commit to being available 24/7. When the contractions start, if you want, I come to your house. I help you get ready for the hospital at a time that suits you and I am with you throughout the birth and for a few hours after the birth. During labor, I try to meet your needs: I can do massages, apply cold or hot packs, etc. to relieve pain, help with hospital procedures, take care of other things, and keep the atmosphere calm and safe.
After the birth, at a time convenient for you (usually after 2-3 weeks), we meet at least once to discuss the birth experience. If there is a need, in the first days I can help with the care of the newborn – consult over the phone or come to the house.
If you wish, 4-5 weeks after giving birth, I can organize a ritual of "closing the bones" – this is a tradition alive in many nations of the world, which we want to bring back to Lithuania as well. We have a cozy conversation, then soften the body in the sauna, bath, or over a steam chair, we rub it with oils, I do a deep abdominal massage and then I tighten the body with rebozo scarfs for several minutes. It is an experience that helps to "collect" the body after childbirth and to better understand and accept oneself in the new role of mother. Please read more (in Lithuanian).
As a doula, I can communicate in Lithuanian, English, German, and Russian.
Prices for Doula Services
Individual prenatal consultation for a pregnant woman or a couple
1 hour – 45 EUR
2 hours – 70 EUR.
Assistance during labor – 500 EUR. It includes:
being on call 24/7 between 38-42 weeks of your pregnancy,
support at your home when contractions begin,
escort to the hospital,
assistance in the maternity ward during the whole period of labor,
assistance during the first 2 hours after birth.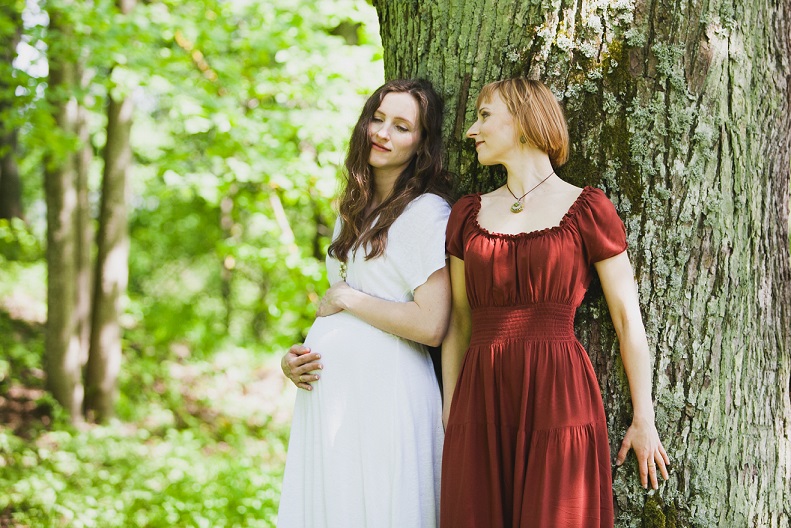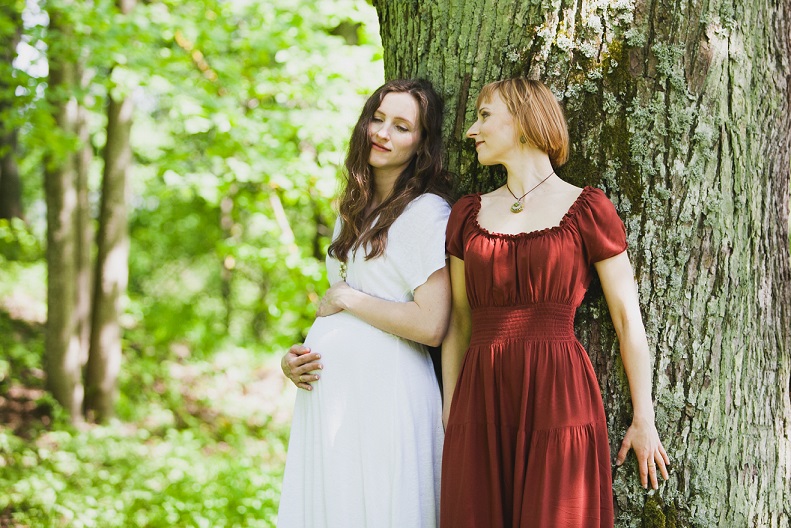 About Me
I am Vilma Kraelskaitė. With my husband, I have 3 sons. I am an experienced doula working in the field since 2014. I help prepare for birth, accompany families during childbirth, and also help integrate the complex experience of childbirth. I lead pregnancy classes and consult individually. I am the representative of the European Doula Network in Lithuania.
I am a somatic therapist (dipl. IBMT) since 2017. I conduct experiential somatic seminars on embryology, birth, and body resources. It is important for me to invite people to meet their inner world, discover their inherent sacredness, and feel their innate life force.
During individual somatic therapy sessions, we work with relationships, self-worth, emotional well-being, and other (not only body-related) issues through conversation, movement, and imagery.